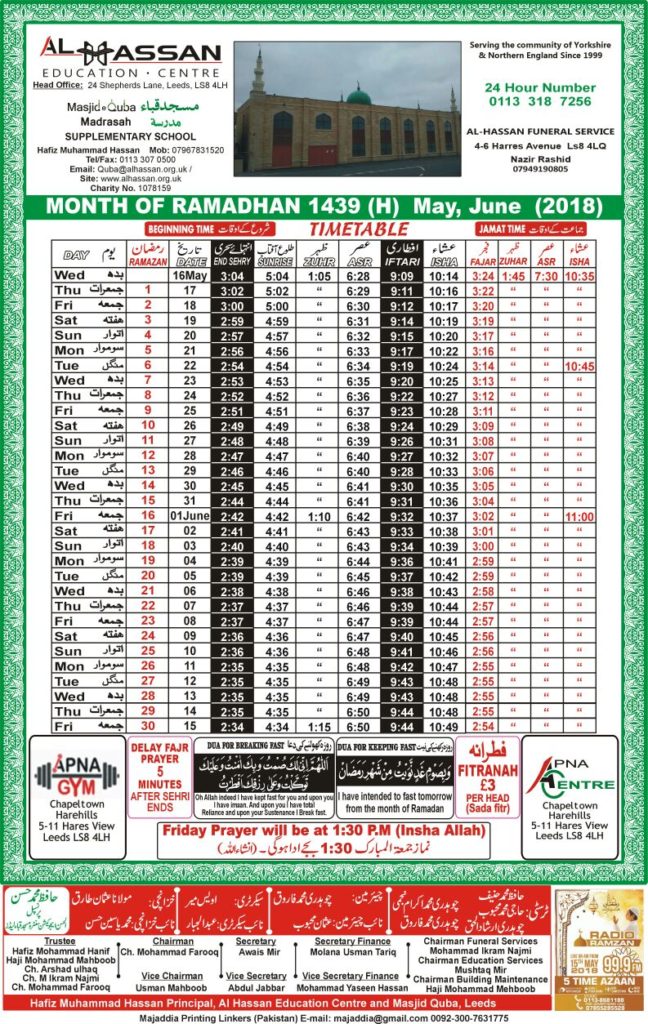 ---

We inform you all (with great sorrow), we have lost our great Chairman Akhlaq Hussain Mir. What can truly be said here which you are not already aware of, the results of his work can be seen by all, a Funeral Service, a Masjid, and a Community Center with a Gym are just some of what Akhlaq Mir helped bring about in our community.
Those close to him know him as truly kind, forward looking, visionary and a mentor to many, as well as so much more which can be said, and we all feel the loss of his presence among us. He leaves behind a Wife and Four daughters.
He passed away on the 12th of February 2018 surrounded by his family.
O Lord of the two worlds, forgive him and make his grave wide and full of light. Grant him the highest place in Jannat-ul-Firdous
---
Speech On The Topic Of Unity
On Friday 26th January 2018 by Qari Aarfi
Al-Hassan Education Centre – Madrasah and Supplementary School
Tajweed, Hifz, Narzrah, Urdu, Islamic Study, Apna Gym for Men and Ladies and Funeral Service provided.
From November 2000, First Ramadan ul Mubarak to 2017, 22 Boys and 7 Girls have successfully completed Hifz.
---
List Of Students Who Have Completed Hifz
Hafiza List (GIRLS)
Hafiza Nosheen
Hafiza Salma
Hafiza Sumayya Mir
Hafiza Aaisha Basri
Hafiza Sadia
Hafiza Zara Khalid
Hafiza Sania Khan
Hafiz List (BOYS)
Hafiz Waqas
Hafiz Sarfraz
Hafiz Usman Iqbal
Hafiz Nazim Hussain
Hafiz Amjad Malik
Hafiz Numan Afzal
Hafiz Aasim Bashir
Hafiz Naweed Shazad
Hafiz Naweed Hussain
Hafiz Azerm Husssin
Hafiz Ibrahim Iqbal
Hafiz List (BOYS) Continued
Hafiz Haris
Hafiz Waris
Hafiz Ikram Nughal
Hafiz Moosa Khalid
Hafiz Suhail Malik
Hafiz Habib Malik
Hafiz Mahmood Ali
Hafiz Ali Raza
Hafiz Aman Khalid
Hafiz Shuaib Rasool
Hafiz Aarif Haq
---
Akhlaq Mir, Hafiz Hassan and all the Al Hassan Education Centre Committee Members have been serving the needs of the community for over 30 years and bringing with them vast amounts of knowledge and experience. Under the leadership of Akhlaq Mir and his strong management team there vision of serving the needs of the community can be seen with the diffrent services being catered for.
Their vision, together with hard work has seen succesful projects come to fruition that underpin the communities needs. One of the main roles of the Education Centre (EC) is to provide supplementary classes. These of which involve Urdu and Arabic language as well as Maths and English classes. We are proud to mention that till this day 15 boys and 4 girls have graduated from our Quranic Classes as Hafiz, that is who have learned the whole Quran word for word off by heart. In addition to this we also provide Aalim classes as well as Islamic studies.
With the learning aside, we at Al Hassan believe that as well as providing good education, it is also important to fulfil the youths recreational needs. This is done by organising various trips and outings, holding football tournaments, play schemes and sports activities for both girls and boys. The Quba Masjid is a project which involves the construction of a building in to a newly up-to-date fully facilitated multipurpose Masjid.
The project cost is approx 1 million pounds. Any donations however small or big for this cause would be much appreciated. For Masjid-e-Quba our bank Account Number is 51392232, Sort Code 606005. Please remember `a little change can change a lot!'
Along with the Masjid, we have the Apna Centre, across the road, where we provide a variety of much needed services to the local community, including Gym Facilitys, Karate Classes, Maths and English Classes, Urdu Classes, etc. Please see the Apna Centre Timetable for more detail on these services.
Al-Hassan Funeral Service
For information please contact using 24 Hour Number 07949190805 or 0113 318 7256

Masjid-e-Quba cannot be built without your help, support and kindness. We ask kindly for you to donate as much as possible so Masjid-e-Quba can be completed and a very much needed Masjid in the community can become of use. All Donations can be paid to our account using the details below or you can pay directly to Mohammed Akram Khan and Nasrullah Khan and collect your recipt.
Al-Hassan education centre is proud to be the first charitable organisation in Leeds to setup a funeral service. Established in 1999, this is a Muslim service for all the local community. Al-Hassan will manage the process of handling the paperwork from the mortuary to the cemetery, this includes all burial forms. We also have arrangements in place for the transportation of the deceased body to the country of origin when requested. The usual countries where the body is transported to follow as: Pakistan, Bangladesh, and Kashmir.
First Contact:
24 Hours – 07949190805 or 0113 318 7256
Al-Hassan Funeral Service
Natwest Bank:
Account Number:
98992937
Sort Code:
60 60 05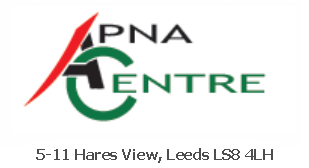 We proudly assert our second and most valuable project, Apna Centre. This building was fully completed in late February 2011 and was up and running within the first few days of March 2011. Apna Centre has been very beneficial to the Local community and has many activities for the youth as well as the seniors. Apna Centre is also available for small bookings, such as: parties, special occasions and meetings. Apna Centre provides services, such as:
Apna Gym (For both men and women)
Apna Day Centre (For Seniors)
Maths and English Classes (For Primary Kids)
Karate Classes (For all ages)
Manager
Nasrullah Khan.
Apna Centre
Natwest Bank:
Account Number: 45720150
Sort Code: 60 60 05
Al Hassan Management And Committee Team
Chairman & Vice Chair
Chairman: Ch. Mohammad Farooq
Vice Chair: Usman Mahboob
Secretary & Assist. Secretary
Secretary: Awais Mir
Assist. Secretary: Abdul Jabbar
Secretory Finance Molana Usman Tariq
Vice Secretory Finance Yaseen Hassan
Trustees
Hafiz Mohammad Hanif
Haji Mohammad Mahboob
Ch. Arshad Ulhaq
Ch. M. Akram Najmi
Ch. Mohammad Farooq
Chairman of Funeral Services
Mohammad Akram Najmi
Chairman of Education Services
Mushtaq Mir
Chairman of Building Maintenance
Haji Mohammad Mahboob