Al-Hassan Funeral Service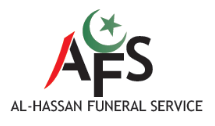 Al-Hassan Funeral Service
For information please contact our 24 Hour Number:  0113 318 7256
Al-Hassan education centre is proud to be the first charitable organisation in Leeds to setup a funeral service. Established in 1999, This is a Muslim service for all the local community. This was something very much needed by the community and has proven to be very beneficial and valuable.
You can join by the payment of a one off joining fee. The joining fee will be £2000.00, this covers you and children under 18 in your household towards any funeral arrangements, and thereafter a £25.00 annual fee per person applies. (Paid by standing order) Additional £2000.00 required per person over 18. (Subject to availability)
We have a partnership agreement with Leeds City Council for out of hours burial services and death registration.
Alhassan will manage the process of handling the paperwork from the mortuary to the cemetry, this includes all burial forms.
We also have arrangements in place for the transportation of the deceased body to the country of origin when requested. The usual countries where the body is transported to follow as:
Pakistan
Bangladesh
Kashmir
Africa
Guinea
Please contact the following for further information.
24 Hour Contact –  0113 318 7256